When selling your home, the true first impression of your property will likely be set the moment a prospective buyer walks into your home. This first impression can be a culmination of many thoughts and feelings, but the key idea is to ensure that the first impression is a positive and lasting one.
Listing a home in a luxury market can up the ante quite a bit when it comes to "wowing" buyers, and this is where staging expertise comes in. Pairing with a knowledgeable realtor from the Tate Advisory Group can put you ahead of the curve when it comes to ensuring your home is expertly staged to create a great impression on open house guests.
Emphasize sunlight
A beautiful home that can harness great amounts of
sunlight
is an item commonly found on most home shoppers' checklists. Not only is sunlight aesthetically pleasing, but it helps to minimize electricity consumed during the daytime.
If your property has abundant sunlight, emphasize it when staging the home to attract buyers interested in a sunny setting. Simple additions like mirrors, open curtains, and open blinds are easy ways to keep the sunlight shining into your home.
Clean and declutter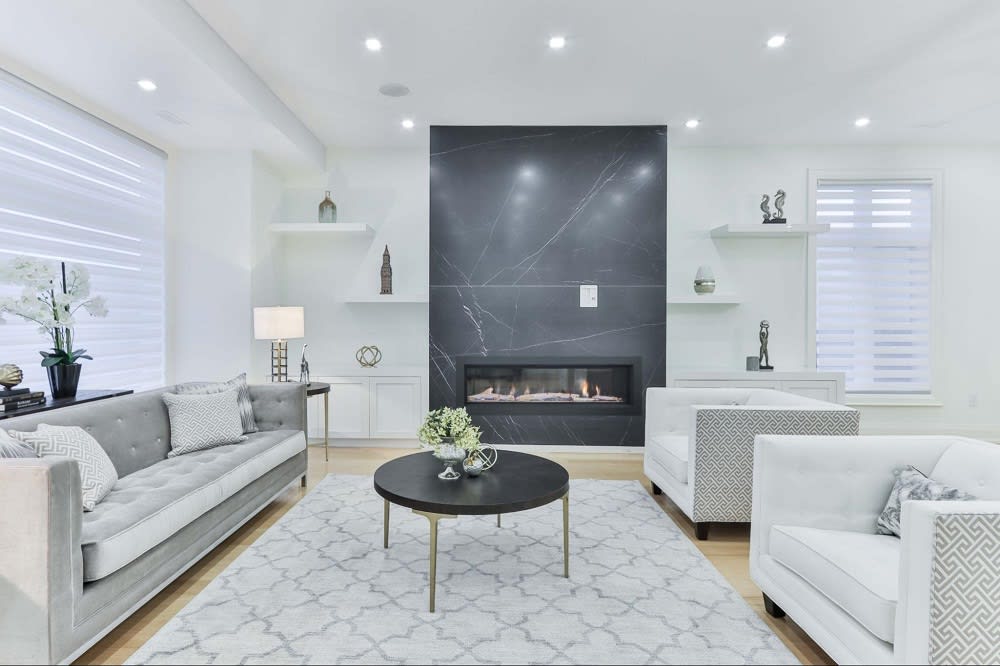 Photo courtesy of Unsplash
This tip kills two birds with one stone. Getting rid of excess clutter and ensuring your home is spotless will not only assist the staging process but also give you a headstart on essential moving tasks. Combing through your personal belongings to eliminate clutter will help ensure that unnecessary items are not being toted to your next property. This clean slate will refresh the home as well so that surfaces are not littered with items that distract from the overall attractiveness of the home's interior.
Rearrange room furniture
Once you have cleaned and decluttered your space, you will have a clearer view of every room and how to maximize floor space, place furniture, and add decor. If needed, take the time to move around a few pieces of furniture in a living area. Any pieces of furniture placed in non-standard orientations or locations can be moved to accommodate standard furniture placement. For small rooms, try placing major pieces of furniture close to or against walls to emphasize floor space and minimize the amount of furniture intruding into walkways.
Add unique touches to the home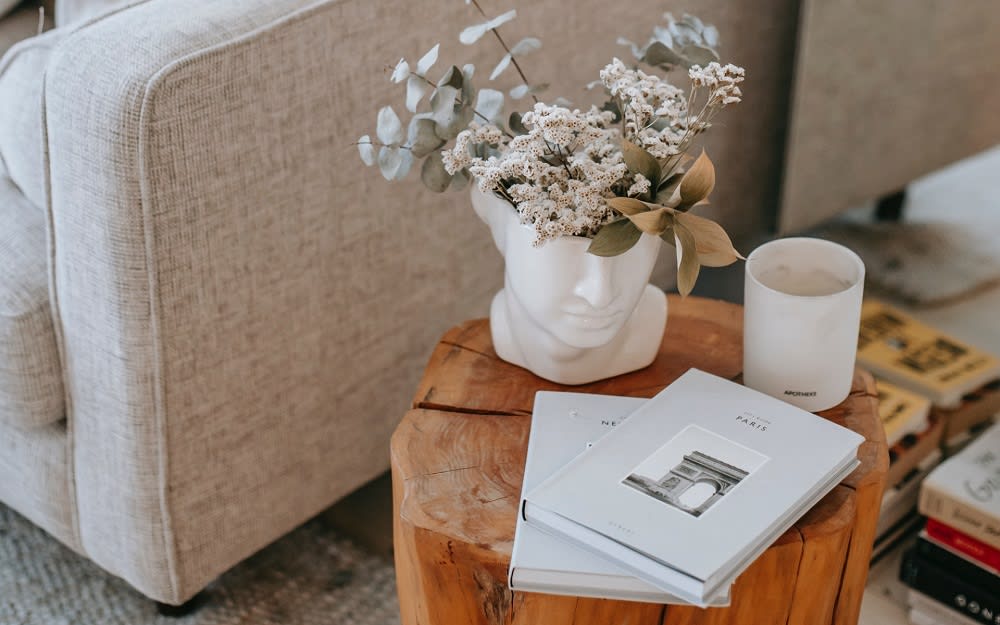 Photo courtesy of Pexels
Yes, keeping color palettes neutral and simple is the general rule of thumb when it comes to staging a home. But following that to the letter is not everyone's forte, and that is okay. Sticking to a certain color palette and emphasizing it with pops of color or unique statement pieces is a fun way to give your home personality without investing too much time or effort. An interesting piece of art, a textured throw pillow, or a coffee table book is simple yet effective in giving any room some extra spark.
Emphasize unique features
Every home is unique in its own way. If your property is one that is extensively unique or boasts features that are not commonly seen, highlight them! High ceilings, antique details, outdoor fixtures, and custom features are great personality pieces to help create a lasting impression after a viewing.
Renovate and fix where necessary
Your agent is the expert when it comes to helping you identify what should or should not be renovated or fixed when staging your property.
Changing paint colors
and updating drawer pulls and cabinet knobs are simple touches that will make an enormous difference to the overall high-quality feel of the home. Repairs or renovations that extend past the basics are always a good idea to discuss with your realtor; some might be better left for the buyer to handle.
Don't forget the outside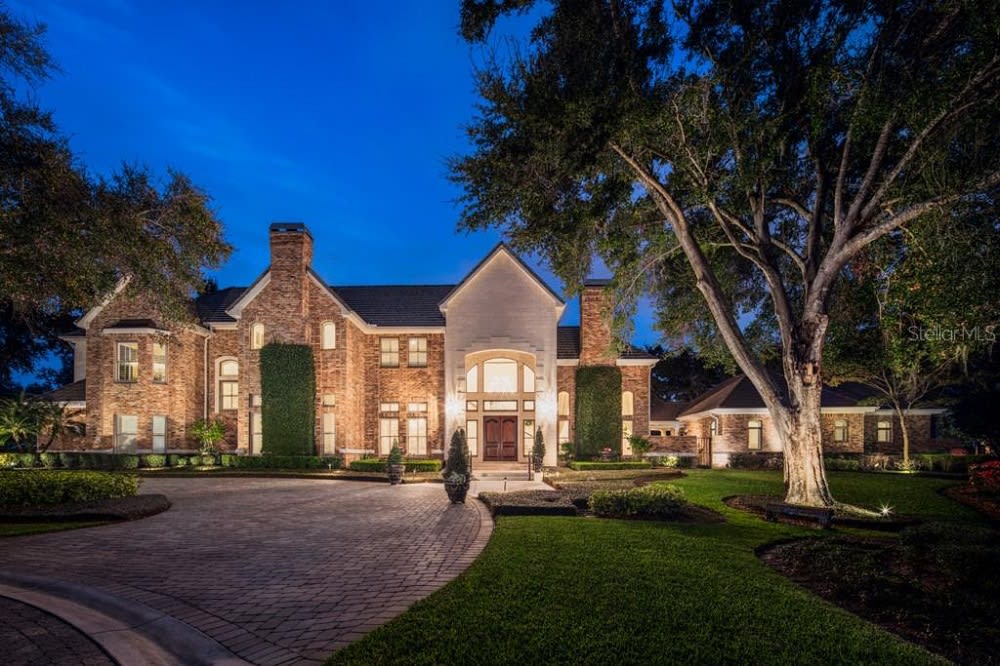 Photo courtesy of Tate Advisory Group
The outside of your home and maximizing your curb appeal are just as important as tending to the interior decor. Survey the exterior of your property in a 360-degree view. Blemishes like missing pieces of siding, broken roof shingles, chipped bricks, or peeling paint are things that might be beneficial to fix. Yard work might be necessary if your home has a large front or back lawn or extensive shrubbery or flowers. Though these are beautiful touches to a property, keeping them neat and tidy is important for aesthetic purposes and negates the idea that lawn upkeep is impossibly difficult.
If your home has a driveway or garage, tend to the tidiness and overall allure of those areas as well so the home maintains a cohesive look that impresses potential buyers.
Add greenery
Plants are a fun and common modern touch that can be added to any room throughout your property. Depending on the temperature and sunlight in any given room, you can place various plants with interesting leaves and blooms. Greenery is great for empty shelves or large barn floor spaces that could use the amplification of a designer pot with a nice plant.
Keep kitchens and bathrooms minimal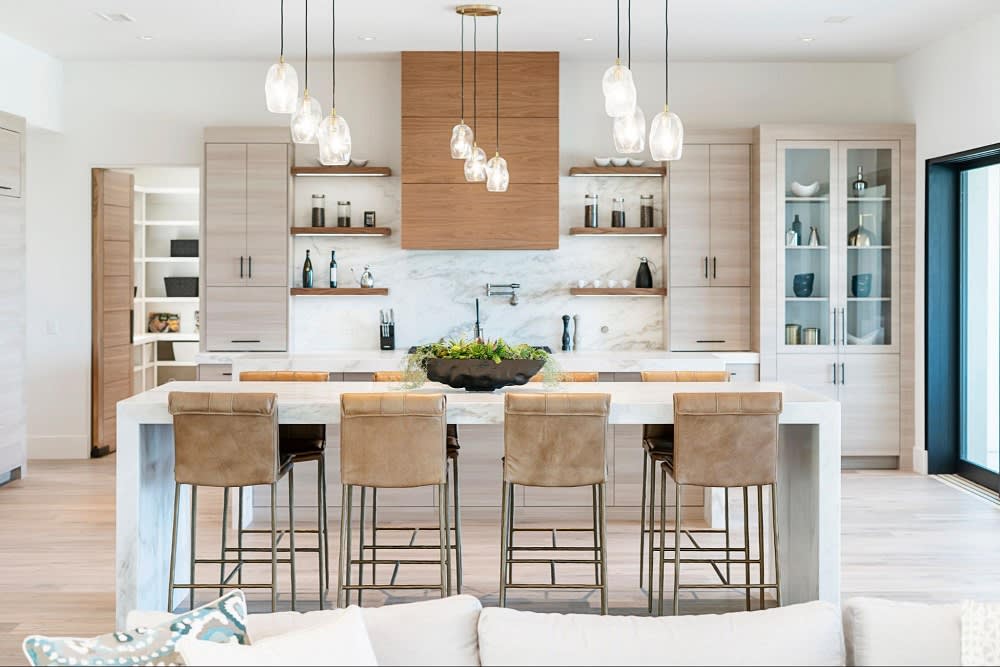 Photo courtesy of Shutterstock
Kitchens and bathrooms are the two easiest rooms to stage in a home. The purpose of either room is obvious, so let the fixtures and appliances speak for themselves. Bathrooms benefit from simple touches like rugs and hand towels hung neatly on racks. Depending on the layout and size of your kitchen, the stove, refrigerator, and beautiful countertops will usually be enough to impress a viewer. More spacious kitchens can be fancied up with simple rugs, plants, or a nice painting on any empty wall space.
Consult your agent for more insights
Take the guesswork out of preparing your Winter Park real estate for sale by consulting
Tate Advisory Group
realtors. They can help stage your home to leave a lasting impression on prospective buyers and encourage them to revisit your listing when deciding where to put an offer.
*Header photo courtesy of Shutterstock